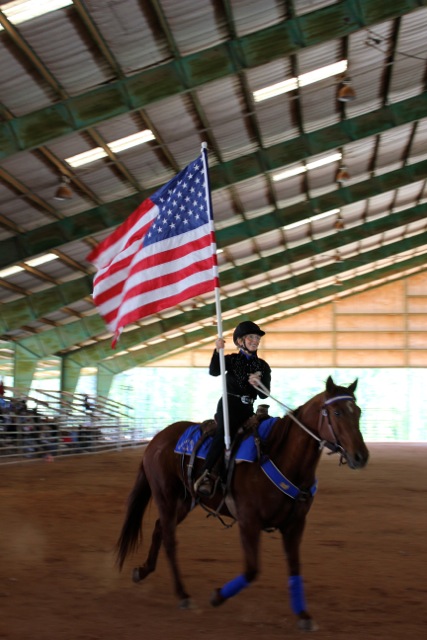 The idea of McKeever's First Ride, was sparked in 2006, one morning as Deenie McKeever casually tuned in to watch "Good Morning America". Moments later, she saw a video clip about retired naval commander Mary Jo Beckman's idea to use Caisson horses assigned to funeral duty at Arlington Cemetery, to perform dual duty as therapy horses for returning military personnel. The rest, is history!
Once Deenie was inspired to help in the launch of a national program to enable wounded warriors to work with horses to promote physical rehabilitation, her gears as an event planner began to spin. Utilizing her skills as an organization launcher (ALTA tennis league) and volunteer trainer (1996 Olympics), Deenie spent the next several months, partnering with Dr. Laurie Johnson, to strategize with Mary Jo about launching the "Horses for Heroes" therapeutic horse riding program nationally. When this ran into ribbons of red tape, Deenie did what she does best--she steered around the obstacles and focused her efforts on making equine therapy available to amputees, O&P users, and military personnel, through an alliance with OPAF.
This alliance not only allowed her to help spread the good news about adaptive riding, it enabled her to memorialize her father's "Carpe Diem" spirit. Col. Dan McKeever was a pioneer in the O&P field, whose mission was to help amputees make the very most of their circumstances, while he urged advancements in Orthotic and Prosthetic design. McKeever's First Ride events provide a way for Deenie to honor her father, to empower amputees and O&P users, to honor all military personnel, and to share her love of horses with the whole world!
Through her generous sponsorship of 2009 and 2010 McKeever's First Ride events, she saw her dream of memorializing her father, for the benefit of countless youths and adults, achieved. Since then, she has continued to provide significant funding for beneficial services, resources, essentials, and goodies--in order to make McKeever's First Ride a life-changing event for the O&P community and for the U.S. military that she cherishes.
Listen To Tracey Pearson Interview Deenie McKeever On The Prissy Tomboy Podcast / America's Web Radio
Show Summary: Join Tracey to hear the amazing and inspiring story of Deenie Mckeever's. Deenie did not start riding horses until she was 60. Now 78, not only does she ride, she ropes cattle, has learned to speak the secret language of horses, and her next goal is to learn to dance with her horse.
Deenie's Affiliations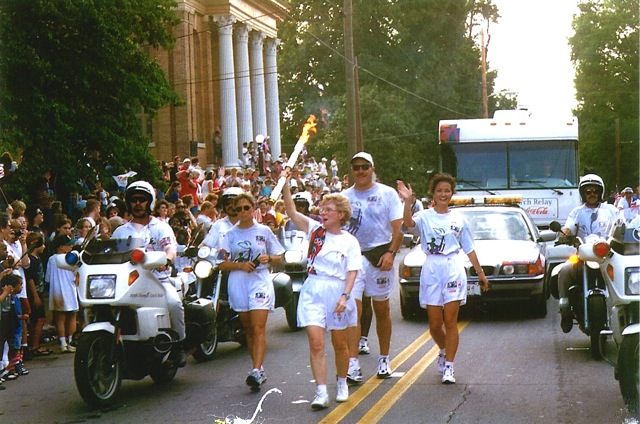 Advocates for Bartow County Children
ALTA, League play, Founding member (ALTA now boasts membership of 80,000)
Board of Directors, OPAF
Board of Directors, J. E. Hanger, Inc. Prosthetics/Orthotics
The Lovett School, President of Mothers Club
Centennial Olympic Games, 1996, Top 8 Volunteers
Olympic Torch Bearer, 1996 Community Hero
Higher Flyers Retreat Center, Retreat Director
George W. Bush Campaign, Key Volunteer
Catholic Charities
Community Foundation of Greater Atlanta, Spotlight Donor
Wesleyan School, Helped establish domestic/international missions
Flying Doctors, International Medical Mercy Missions to Mexico
Humane Society, Chairman of first Atlanta Bazaar
Piedmont Hospital, 30 year Volunteer
Youth Director, St. Anne's Episcopal Church
"I loved participating in medical missions with Flying Doctors International Mercy Missions for 4 years. I was proud to give 5 years to the Centennial Olympics as a volunteer, and 2 years to the Bush/Cheney presidential campaign. But, I see myself giving all my remaining years to McKeever's First Ride! I have loved making McKeever's First Ride a reality for people in the U.S. and abroad. I love having the chance to help people create more vibrant, connected lives. I love sharing with others the "Carpe Diem" spirit that my dad instilled in me. As I enter year 7 of McKeever's First Ride, I know I'm just getting warmed up! I'll be committed to enriching the lives of amputees and vets for the rest of my life!" - Deenie McKeever
Learn More