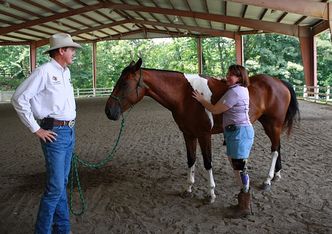 Our mission is to showcase the powerful physical and emotional benefits of working with horses.
Contact with gentle horses provides companionship, invites the cultivation of new skills, and boosts self-confidence in youth and adults.
McKeever's First Ride provides chances to do more, and be more, than one dreamed possible after limb loss or experiencing other physical challenges. Additionally, McKeever's First Ride offers a chance for users to "horse around" and hone new skills in riding, roping, carriage driving, grooming, groundwork, and expressive arts.
McKeever's First Ride also salutes all military personnel, and welcomes them to enjoy equine activities, fellowship, and inspirational messages from our guest speakers.
Opening ceremonies for McKeever's First Ride includes the presentation of military flags and a salute to all who have served this great country. Depending on the site where McKeever's first ride is held, different activities are offered.
The Atlanta location, is ideal for rain or shine activities, including adaptive riding, roping, adaptive carriage driving, mini horse activities, demonstrations by Shepherd Swords adaptive fencing team, mounted drill team performances by the Rusty Spurs, AMTA Massage, and volunteers pulled from Georgia Tech, Childrens Healthcare of Atlanta, Atlanta Horses for Heroes, and local veteran associations.
Our other locations can offer facilities and activities suited for participants to enjoy the activities and benefits of McKeever's First Ride. Regardless of where McKeever's First Ride is held, you are invited to join the McKeever's First Ride worldwide family!
Learn More